My name is Genesis but everyone calls me "Gen". My name means "beginnings or origin" I was named after the first book of the Bible. This book unfolds the record of the beginning of the world. It is the story of God's purpose and plan for his creation. I have many purposes at the Rising Hope. First and foremost is to be a companion to the riders that visit each week to the farm. I love rubbing against their legs because that always results in a pat on my head or a rub down my back. I also love the volunteers; they are so sweet to me and allow me to sleep on their laps as they are resting. My most fun thing to do is to tease Buddy. I try to stay safely away from the hoofs of the horses, but I do jump on the top rail of the fence so the horses and I can nose each other. I am not a lazy cat; I work hard catching mice and keep snakes away from the barn. Sleeping on the straw in the loft is so cozy after a hard day of mice catching. I stop by Noah's cage occasionally and give him a kiss. We all get along nicely at the farm. Please come see me when you can and feel how soft my hair is as you rub my back!!!!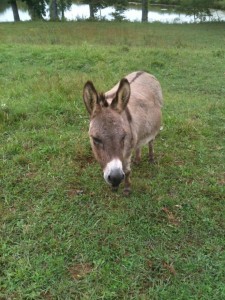 My name is Balaam. I get my name from the story of Balaam's talking donkey in the Bible (Numbers 22:21-39). I am a gray miniature donkey with the outline of a cross down my back and shoulders. I was donated to the farm in November of 2009 by Janice and Blake Sigmon. I am the smallest equine on the farm, but what I lack in size I make up for in big friends. My closest friend is Heaven the Clydesdale (the biggest horse on the farm). You will never see me far from his side. I even run underneath him for protection when I am scared. Heaven will also share his grain with me. He will throw it on the ground for me or we will share it from the bucket. He is my best friend and I do not like being away from him. I also love getting attention from the children and volunteers that come to the farm. I will stand quietly while you brush me and if I'm not getting the attention I want I will come and nudge you until you give it to me. I am very small and therefore can easily look most of the riders eye to eye.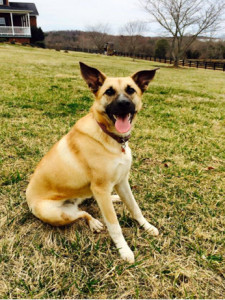 Faith is the newest member of the Rising Hope Farms Barn Staff. She loves the riders, plays with the horses, and enjoys the attention of the volunteers. She is a rescue from the Human Society. Don't know what her breed is, but she is the perfect mix for our ministry.


In Memoriam
In May of 2014, we lost our dear friend Buddy, the Siberian Husky.

Memorials for Buddy
Buddy, you were more than a pet, you were a member of our family. You were a loyal friend, companion and therapist to our family for 12 ½ years. You moved with us in Joplin Mo., Lexington, Ky and then back home. You saw me through many up and down and comforted me when I lost family members. I will never forget our daily long walks and talks. You taught me so many lessons about life, but most of all you taught me unconditional love and how to live life happy. I look forward to our time together in eternity. Gail W.
Just from the short time I knew Buddy as a volunteer at Rising Hope Farms, I grew to love him. When I saw him playing with the new horse, Blessing on Tuesday.
Dot A.

Buddy,
Ady will miss seeing you when she comes to ride.
Buddy,
I miss playing fetch with you . Hope you have lots of friends to run and play with up there.
Erick
Buddy,
I enjoyed getting to walk you. You were a very loved dog. You will be missed.
Amber
I will always remember Buddy for his loving disposition and boundless energy. He was a very special gift to all the Farm Family from God.
Jo and Reggie
Buddy,
I will miss taking you for walks up and down the driveway and brushing you.
Kim W.
Buddy,
You will be missed. I love you.
Caroline
Buddy,
I wish you were back.
Love, Graham


Buddy,
I will miss seeing your beautiful blue eyes at the barn and you will forever be missed!
Love, Ariel
Buddy,
I miss our walks together. I truly love you.
Love, Bill and Gina
All this time that I've been at RHF I've looked forward to greeting Buddy when I get to the barn. I loved Buddy and he'll always be in my heart.
Lesa Lackey
Buddy,
You will be missed by all of us. You were there to greet us. Who is going to lick Abe's feed bowl clean for us on Sunday's? We loved you very much.
Dale and Sandy Sherrill
I love to think of you having a dog's life in Heaven. Thanks for all the many hearts you touched.
Gina
I didn't know Buddy that long, but he was always wagging his tail. He was always happy. I enjoyed taking him on walks. He will be missed.
Hunter W.
Buddy was a loyal friend and confidant. He was a blessing to your Rising Hope Family, and he will be deeply missed. We love you, Buddy!
Caroline Williams
Buddy,
You meant so much to so many people at Rising Hope. You were such an integral part of the ministry and you will be deeply missed. Thanks for sharing your love with everyone that came across your path. I love you, Buddy!
Sarah L.