To All Rising Hope Farms Volunteers,
First, I want to thank all of you for volunteering and to let you know how much we appreciate all your efforts. You are the backbone of this organization and the ones who make this program possible for so many in our communities.
These are our Volunteer Scheduling contacts:
Maleah Kirby – Tuesday Volunteer Coordinator – 828-234-3311
Wendy William – Wednesday Volunteer Coordinator – 828-244-2856
Vicki Smith – Saturday Volunteer Coordinator – 828-234-3000
Sandy Sherrill –Volunteer Coordinator Support – 828-302-7240
You will be receiving information from the above schedulers with the day / date / time for the riding season. Once you receive the schedule, select the day / date / time and the volunteer assignment that you are qualified to perform. Reply with your selection via sending an email message to the scheduler.
Please let us know if your contact information requires updating and provide us with your update or, should you choose to have your contact information removed from our email list, send an email requesting removal of your information.
Information will be forthcoming for you to sign up for the training session.
2018 Volunteer Training –
Click Here
Volunteers are the backbone of any therapeutic riding program. Our trained volunteers help provide a safe and effective program while enhancing the quality and enjoyment of the lessons. Rising Hope Farms is maintained completely by volunteers. The number of riders that RHF can serve is determined by the amount of volunteers we have. Because of the commitment of the volunteers, RHF can offer therapy riding free of charge.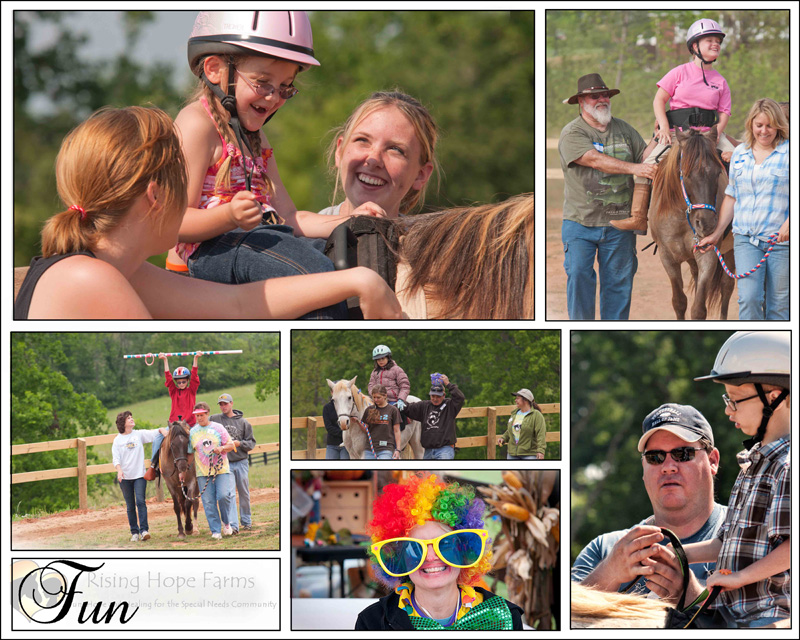 Volunteer opportunities at Rising Hope Farms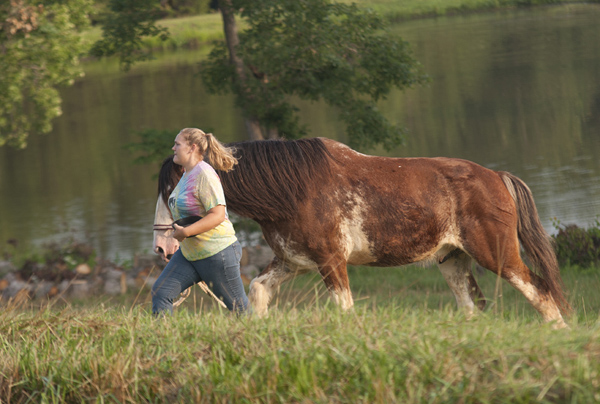 Horse Leaders– Must be horse savvy. A horse leader's primary responsibility is the horse. The leader arrives 45 minutes before the rider to brush, tack and warm up the horse. This allows the horse leader to determine the attitude of the horse and helps both horse leader and horse to be comfortable with each other before the rider arrives. During the lesson, the horse leader leads the horse as they watch the body language of the horse to make sure the horse remains calm. Horse leader volunteers must be at least 16 years of age with horse experience.
Side Walkers– Do not need horse knowledge. Side walkers get the most hands-on-duties in therapeutic riding. They are directly responsible for the rider. The sidewalkers are located on each side of the horse holding on to the rider for support. Supporting the rider is the side walker's ultimate responsibility. The side walker can also help the therapist or leader in assisting with the therapy while in the arena. The sidewalker's attitude and demeanor needs to be calm and confident so the rider will feel safe. Side walkers must be at least 16 years of age.
Wranglers– Wranglers have the responsibility of stable management. Wranglers help maintain tack to make sure it is organized, clean and safe. Wranglers also make sure barn and stables are clean and that there are no obstacles in the breezeway that can harm the rider or horse. Wranglers are also are used by the horse leader to help tack up and brush horses before the rider arrives. Wranglers must be at least 14 years of age.
Gate Keeper– Gate keepers have the responsibility of opening and shutting gates as the rider enters and leaves the barn and arena. The gate keeper also assists the therapist in setting up the arena and being an aide during the therapy session. Gate Keepers must be 14 years of age.
Administrative Helper– These volunteers do not have to be present during the riding session but help with scheduling other volunteers for the sessions and ensuring all paperwork is complete. Most tasks can be done over the phone or from your home. We need help in mailings, fundraising events, publications, etc.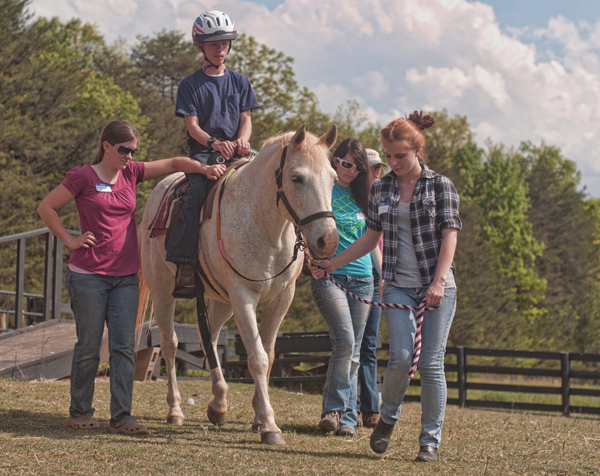 Special Event Coordinator– These volunteers are responsible for helping plan special events such as barbeques, horse shows and fundraisers. They coordinate other volunteers and form teams to support such events. We hope to have two events a year to showcase our riders, program and to promote community awareness.
How to Sign Up to Volunteer
To become a volunteer, please complete the forms below. As a THANK YOU for your commitment, you will receive a $20.00 t-shirt for applying and volunteering.
To become a volunteer complete the following forms.
Instructions for Forms (please read)
Form 01 – Volunteer Information Form
Form 02 – Emergency Medical Treatment Authorization Form
Form 04 – Instructions to complete certifiedbackground.com
Form 05 – Continuing Liability Waiver & Release Form

We use PDF forms that can be filled out and printed.
Please click here if you do not have adobe Reader installed.
For more information, please contact:
Email: Volunteer@RisingHopeFarms.com

Testimony from a Volunteering at RHF
When a friend asked me to consider volunteering at the Farm, it sounded like a fun thing to do. I would be getting a little exercise, enjoying the outdoors, and maybe helping a special-needs person in the process. Little did I know, it would become one of the highlights of my week. Getting to know and work with the riders and other volunteershas been a special kind of joy.These are awesome people!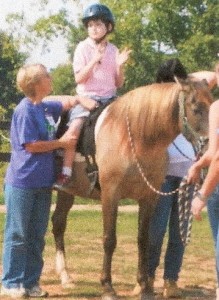 I love to see the faces of the riders light up when it is time for the ride to begin. I share their pride when they learn a new skill or master an old one. I love the interaction with horses. God has infused these chosen horses with gentleness and sensitivity. They seem keenly aware that each rider is special and deserving of their best behavior. All of us- riders and volunteers- share a special bond with the horses.
Thanks to Rising Hope Farms, I have dozens of new best friends (some two legged, some four legged). I have mastered many new skills. I love the time I spend out there and get far more out of the experience than I could ever give. When I count my blessings, working at the Farm is at the top of the list! It is truly a life-changing experience.
— Jo Sloan